Why We Love Clary Sage!
What's in a name? When it comes to botanical ingredients, quite a lot! 'Clarus' of Clary Sage means 'clear' in Latin, which stems from its long history of clearing and healing sore eyes. Its Latin name Salvia derives from 'salvere', meaning 'to be saved'. Another beautiful nod to the botanical's healing abilities.
A distinctive scent note, Clary Sage is warm, earthy and herbaceous, dressed with sweet ambery accents. Let's dive in and check out its benefits!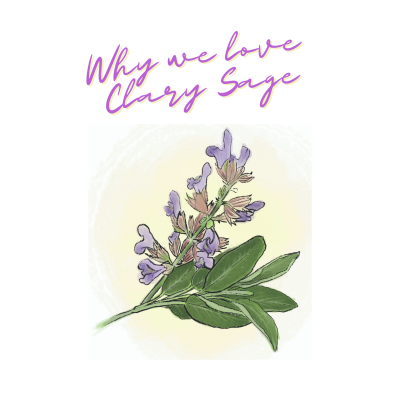 BENEFITS
How beautiful to spritz a scent as though it were your saviour. Clary Sage has played its role as a healer since the middle ages and is still used today for its physiological, physical and emotional benefits.
Clary Sage is an incredibly grounding aroma without being heavy, the perfect scent to ease anxiety and stress. This, along with its uplifting and revitalising abilities, make it great for burn-out. Extremely balancing, Clary Sage is highly sort after as a remedy for hormonal symptoms brought on by PMS or menopause and even helps those with trouble falling asleep.
Spiritually, Clary Sage aligns with the third eye chakra, which governs clarity, intuition and foresight. It comes as no surprise then that Clary Sage is used to help clarity of dream recollection.
A MODERN PERFUME INGREDIENT
As wellbeing and self care continue to take centre stage, so too does Clary Sage in the world of perfumery. Luxury fragrance brand Byredo describes its De Los Santos scent as an aromatic cloud of musk pierced by the clarity of Sage. Blending Clary Sage with Palo Santo, Mirabelle and Oris, De Los Santos tells a story of scent, ceremony and remembrance, honouring the sacred and the spiritual. While Jo Malone's Yuja Cologne takes a more energetic approach, bursting out of the gates with notes of Yuja and Green Tangerine, middle notes of Clary Sage, Lavender and Petitgrain, rounded by a base of Fir Balsam and Cedarwood. Two stunning treatments of Clary Sage in the modern world of perfumery.
HOW WE USE IT
We couldn't imagine our Perfume Playground Studio without Clary Sage. In every workshop we host, Clary Sage is gravitated towards – either out of sheer curiosity or the allure of its healing aura. As illustrated by Byredo and Jo Malone, Clary Sage can be paired with an array of scent notes, and you're only limited by your imagination. Some of our favourite complimentary blends include tangy citrus notes such as; Lemon, Lime or Grapefruit or for a touch of floral delight; Rose, Lavender or Geranium.
"Creativity is the fragrance of individual freedom"
– Osho